When can I get one: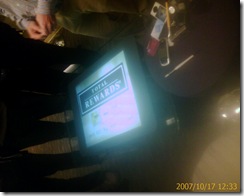 It was a gadgetfest at the PSR today at Microsoft.  At lunch they had the Surface out for everyone to play with.  It was one of those demos that you just tell that the gadget is going to change everything, but have no idea how.
After lunch it was the windows mobile session with gadget's galore.  They showed off the Sprint HTC Touch.  The touch flo interface looks very cool and was very responsive.  Then they showed the HTC Juno.  This is a great device and as long as it comes out with a decent processor and good battery life, this looks like it may be my next phone.  Last was a demo of WM 6.1.  The new UI looks nice and should make the 'one handed' experience much more usable.
There is supposed to be a 'nice parting gift' for everyone today…wonder if it will be one of these devices (fingers -crossed!).